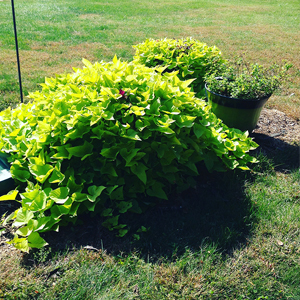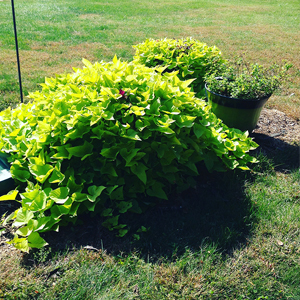 I'm not. Well, maybe a little. This is the last summer before my last kid goes to school. Bittersweet? Yes. But she's so excited, it's hard to not be excited for her! And of course, we'll cram a bunch of activities in before the end of August rolls around, so it's not like I'll have a bunch of time to sit and dwell on it.
What I will be dwelling on once September arrives is actively seeking a few more steady clients. I'm a mix of excited and nervous. I'm pumped to get the chance to work with some new people, but at the same time I'm not quite sure how I'm going to approach my search. I've got a few ideas cooked up, so we'll see how that pans out. If you know of anyone looking for a freelancer, let me know!
As a parting gift, I'm adding a photo of one of my flower pots from last summer. As you can tell, I really like Sweet Potato Vine. It looks great when paired with some really colorful flowers. It doesn't look so great when you get overly excited and plant too many in one pot. We called this "Cousin It".