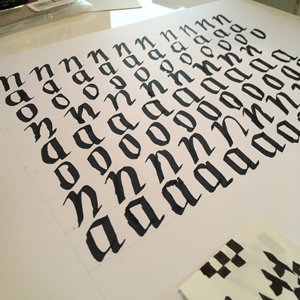 It's not pretty, but I'm super excited to be learning a new skill. I probably have another blog post about my wanting to learn calligraphy. I think I even started and then for whatever reason, quit and never tried again. This time I hope to stick with it.
Not only is it super therapeutic, it's a skill that should hopefully take my invitations and business to another level. I've seen a few other local wedding artists who are skilled at calligraphy, and each time I see their work I just can't get over how great it looks. I'm sure it will take some time, but I'm hoping to be just like that when I grow up! Ha!
For now, I'll aim to post every so often with my progress. Maybe that will keep me more accountable and keep me moving forward.